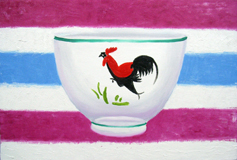 This is a series of "One Country Two Systems " I explore different issues in this Economic Zone - Hong Kong. The issue of different processions of Rich and Poor in Hong Kong.
This is just an ordinary rice bowl with traditional design used by the masses in Hong Kong. This ordinary Hong Kong Rice Bowl contrasts with the previous art collector's "Qing Emperor's Bowl".
The hidden meaning of a rice bowl is a "job". The background is a piece of "Red White Blue" cloth, which symbolizes Hong Kong Identity. The bowl is done in realistic style, which contrasts with the flatness of the background. In fact, the bowl does not sit on anywhere, but floating in the air. Therefore some essence of Surrealism is added to the painting.