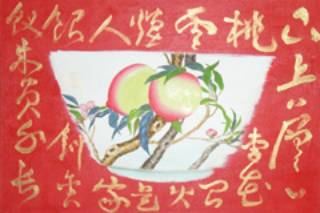 This is a series of "
One Country Two Systems

" I explore different issues in this Economic Zone - Hong Kong. The issue of different processions of Rich and Poor in Hong Kong.
This is not an ordinary bowl, this is Qing Dynasty Yongzheng Peach Bowl - one of the important collections found around the world. The design is considered to be most auspicious as the peaches are a symbol of longevity. This bowl is one of the dishes represent the art of Yongzheng ceramic potting and enamelling at the highest level. It is documented that pink enamel (famille rose) which is derived from colloidal gold was discovered by Andreas Cassius of Leyden in the mid 17th century. After being employed on glassware and Nurembury ceramics it was introduced to the Chinese court late in the reign of Emperor Kangxi by Jesuit missionaries. Initially it was used in Palace workshop to decorate metal wares and later the technique was refined and transferred to the decoration of porcelain. The Emperor Yongzheng took immense interest in the production of Imperial porcelain and the quality of the body, glaze and enamels improved under his patronage.
It was sold at a record high for millions of dollars during the Christie's auction in May 1994.
From my interpretation, this bowl is not just a bowl anymore because it doesn't have any original function of a bowl, which holds rice or soup, but this Qing Dynasty Bowl carries the symbol and status of prestigious collectors.